Grab & Go Program
FOR NON-TRADITIONAL UNITS
Our Crafted to Go program offers consumers the same delicious sliced-fresh quality offered by Port of Subs – but with grab-and-go convenience.
Maximize your earning potential with Crafted to Go's diverse menu options, attractively displayed in your deli case. Capitalize on the convenience and accessibility of our grab-and-go offerings, designed for busy individuals on-the-go. Strategically target high-traffic locations to capture sales from busy commuters, office workers, and travelers. And, with our delicious and fresh food options, generate repeat business from satisfied customers who crave our high-quality products. Let our proven strategies help you unlock your revenue potential and achieve greater profits.
Fresh, Delicious, and Convenient
Enjoy a wide selection of freshly prepared options that are packaged for convenience. Choose from our variety of mouthwatering sandwiches, healthy salads and wraps packed with fresh produce, as well as a range of delicious snacks. 
Premium Hot and Cold Food Options
Offers a variety of ready-to-eat and ready-to-heat products made with high-quality ingredients. Whether your customers need a quick bite on their way to work, a meal during their busy day, or a snack during their travels, our options will satisfy their cravings.
Competitive Market Positioning
Crafted to Go is strategically positioned to meet the demands of today's busy consumers. Our grab-and-go program fits seamlessly into their fast-paced lifestyles, providing a convenient solution for those seeking quick and delicious food options on the go.
FDA Compliant Nutritional Labeling
All products adhere to FDA labeling guidelines for retail distribution and comply with local health department requirements, ensuring customers have access to accurate and transparent nutritional information.
Crafted to Go is specifically designed for non-traditional franchise locations that are looking to cater to the unique needs of their customer base with offers a fresh, delicious, and convenient food options.
Convenience Stores & Gas Stations
Universities & Colleges
Casinos & Entertainment Venues
Airports and Transportation Hubs
Business & Office Complexes
Hospitals & Healthcare Facilities
Military Bases & Government Facilities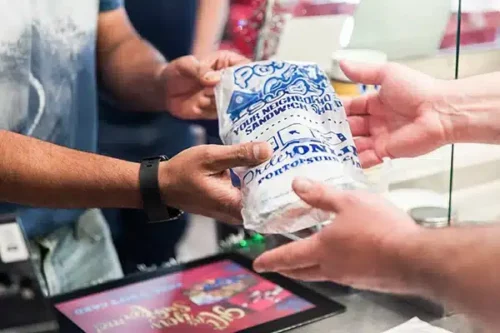 ARE YOU READY?
Learn more about owning your very own sliced fresh franchise!